Connect to Azure Service Bus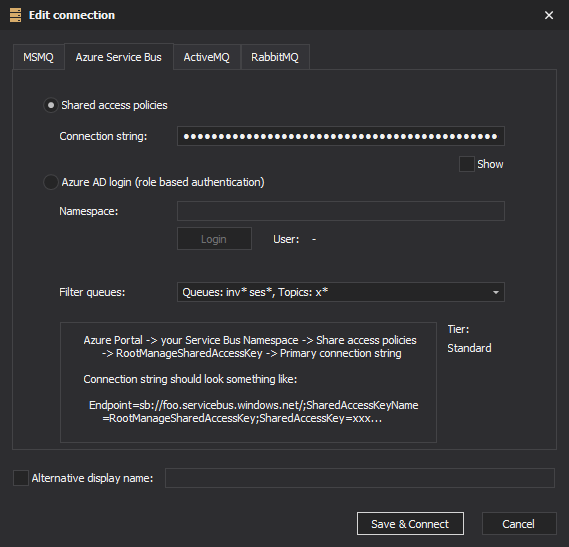 QueueExplorer can connect to Azure Service Bus namespaces. Older "Service Bus for Windows Server (Service Bus 1.1)" is not supported.
In order to connect to Azure Service Bus go to Azure portal, open the Service Bus namespace you want, then go to:
Settings -> Shared access policies -> RootManageSharedAccessKey -> Primary connection string
and copy connection string from there. After you paste it, QueueExplorer will contact Azure to check tier of your namespace (Basic, Standard or Premium) and display it below.
Connection string should look something like:
Endpoint=sb://foo.servicebus.windows.net/;SharedAccessKeyName=RootManageSharedAccessKey;SharedAccessKey=xxx...
RootManageSharedAccessKey is the default name and can be different in your namespace.
Connection string will be displayed in a password-hidden field in the connection dialog. If you want to see or copy it, click on the "Show" checkbox.