QueueExplorer Professional
Schema (metadata) operations
QueueExplorer Professional can export or copy definitions of queues, topics, exchanges, vhosts, etc. You can export entire server or just a subset. This allows you to migrate to another server, or to just compare and see differences. You can also copy/paste objects on the same server and rename them to quickly get queues with the same settings.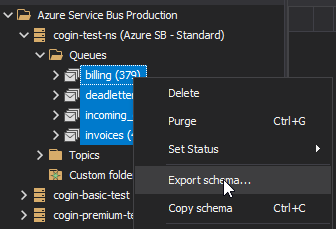 Extract data from messages using XPath, JSON, or Regex
You can extract specific business data from a message and display it as a new column. These columns can then be sorted or filtered. For example you can display most expensive order in a queue first, even if there are hundred messages before that one. Messages could be XML, JSON, text, or .Net serialized objects.
Custom columns are remembered as a part of queue view. That way you can have different business data displayed as you move from queue to a queue.