How to move ActiveMQ message to another queue
Here's how to quickly move one or more ActiveMQ messages using QueueExplorer:
Step 1 - Locate and select messages
Click on the queue in QueueExplorer to see a list of messages.

Find messages you want to move, either manually, or by filtering by message body, label, id...
QueueExplorer Professional allows you to filter by more granular data, by extracting business data from messages using XPath, JSON or regular expressions.
Select messages you want to move.
Step 2 - Move messages
You can move ActiveMQ messages in following ways:
Using clipboard
Select "Cut" from the context menu or from the toolbar. Go to the target queue and paste there.

Using drag&drop
Press and hold mouse button, and move cursor to the target queue.

Using file system
Save messages to a file.
Go to the target queue. Load messages from file.
Go back to source queue. Delete original messages.
QueueExplorer Professional can open queues in separate tabs, making these operations easier.
QueueExplorer can also:
Move message to an ActiveMQ topic.
Move deadlettered ActiveMQ messages back to the original queue to be reprocessed.
QueueExplorer: Explorer-like management for ActiveMQ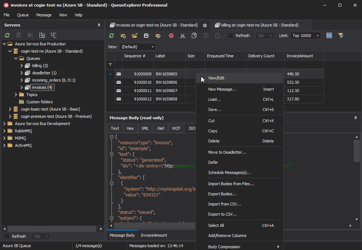 We developed a software which greatly helps you with ActiveMQ. It helps you to understand and manage your system, figure out what went wrong, and fix it. There is a free trial as well.