Detect and handle poison messages
Poison messages are one of biggest issues with queuing. Single bad message can sit on top of the queue and prevent all other healthy messages to be processed. QueueMonitor can detect poison messages, move them to a subqueue or a file, and send email to admin. That way following messages will be processed immediately, and broken messages could be handled manually later.
Keep an eye on MSMQ service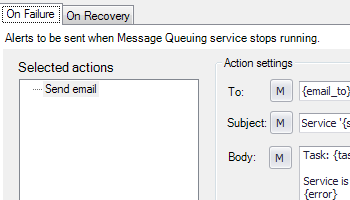 QueueMonitor constantly monitors MSMQ service. If it doesn't start because of AD issues or stops working for any other reason QueueMonitor will raise an alert and pause all other monitoring tasks until Message Queuing works again.