How to browse ActiveMQ messages
Here's how to browse ActiveMQ messages using QueueExplorer:
Step 1 - Create ActiveMQ connection
Create a new connection in QueueExplorer with your ActiveMQ credentials.
Open connection to see list of queues and topics.
Step 2 - Click on a queue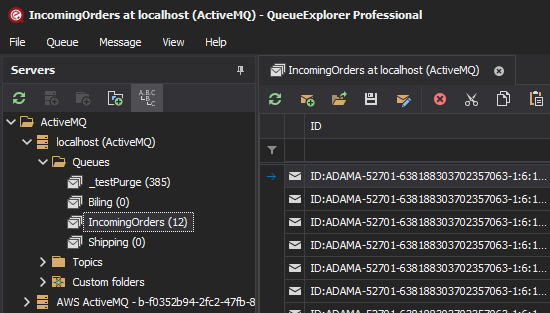 QueueExplorer starts loading messages.
Messages are displayed progressively as they are loaded.
You can limit number of messages that will be loaded, or load all of them.
When you click on a message its content is displayed in a bottom panel.
Message viewers: JSON, XML, Text (UTF8, UTF16, etc), Hex, WCF...
QueueExplorer can also:
Display messages in ActiveMQ topic as they arrive.
Display all message properties in message list, including custom headers.
Display extracted data from messages using XPath, JSON, or Regex (Professional edition).
QueueExplorer: Explorer-like management for ActiveMQ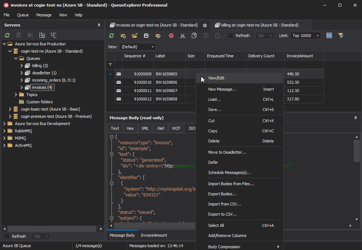 We developed a software which greatly helps you with ActiveMQ. It helps you to understand and manage your system, figure out what went wrong, and fix it. There is a free trial as well.