How to backup RabbitMQ messages
How to backup messages from RabbitMQ queue using QueueExplorer:
Make sure that "Limit:" in toolbar is set to "Show all", in order to load all the messages from the queue.
Hit Ctrl+A or choose "Select all" option from menu.
Step 2a - Save messages to .mq file
Hit Ctrl+S or choose "Save" from menu or "Save" icon from toolbar.
QueueExplorer will save all messages to the single .mq file.
.mq file format is compressed, can contain multiple messages, and stores all message properties.
.mq file can later be loaded from QueueExplorer.
Step 2b - Alternatively, save message bodies only
Choose "Export bodies" from the menu to save message bodies only, without other properties.
Each message will be saved to separate file in this case.
Message body will be saved as it was in the message queue, and thus can be manipulated with outside editors or other tools.
These files can be also loaded back to QueueExplorer, but without any extra properties, headers, labels, etc.
QueueExplorer: Explorer-like management for RabbitMQ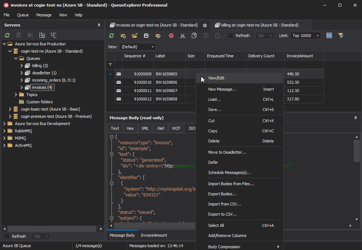 We developed a software which greatly helps you with RabbitMQ. It helps you to understand and manage your system, figure out what went wrong, and fix it. There is a free trial as well.